Bring your bride tribe, make it a day
Get it on the calendar
Schedule your appointment
Gather your loved ones (we have seating for 5 bums max) and make a day of it! Preferably eight months or more prior to your wedding date, stop in after brunch or before dinner! We have appointments in the morning and afternoon to accommodate your schedule. Don't forget your champagne….while we don't provide it, we happily allow it! (as long as you share)
Scheduling your appointment is easiest and pain free directly from our website. Please see the "schedule your appointment link", this way we can have all of the accurate information about your special day and get to know you before you arrive! Once your appointment starts, we will of course ask you all over again so if you get something wrong, don't worry!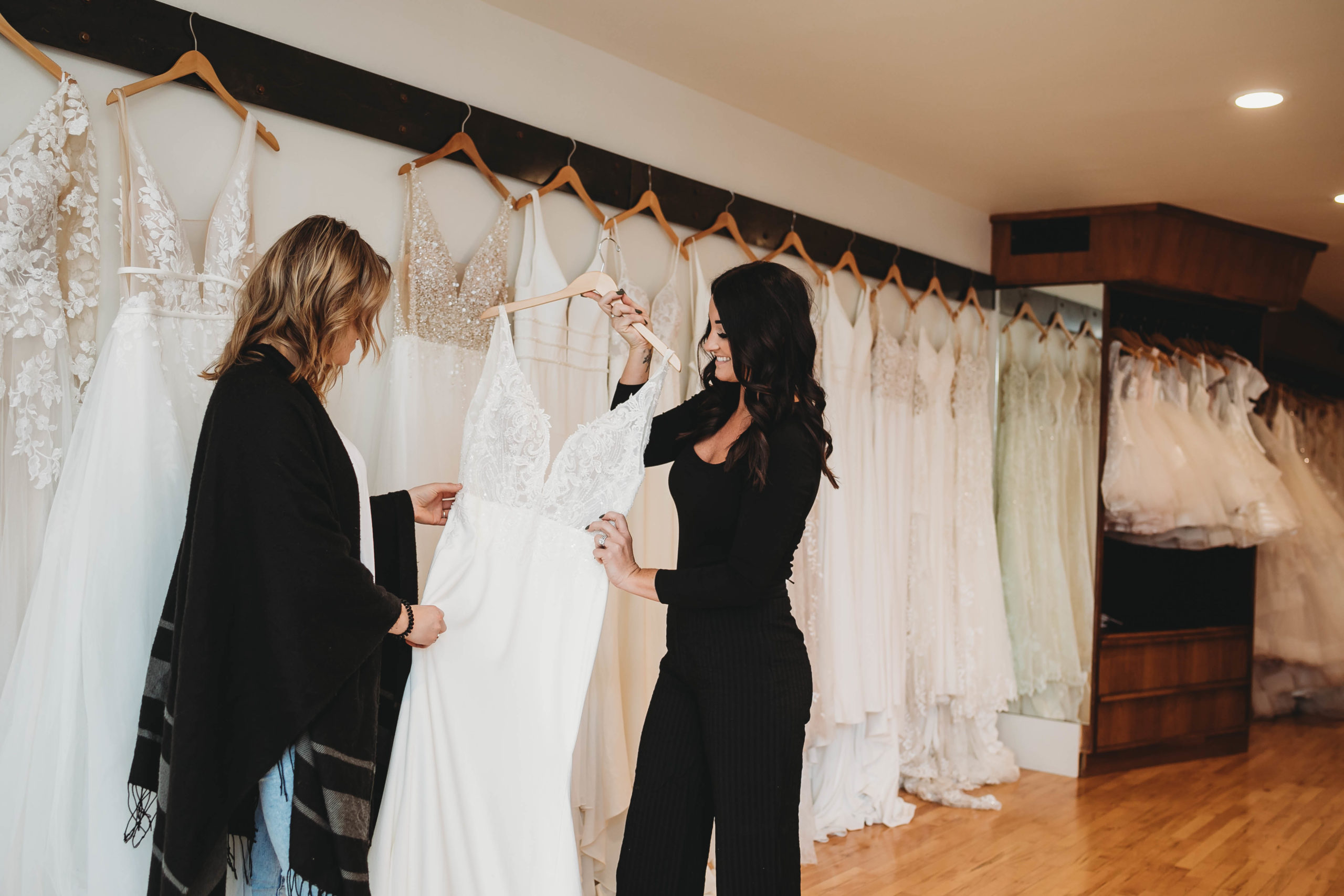 Unlimited selection
Browse Open Inventory
During your appointment, you will get to browse our open inventory and pick out your gowns! You can touch and feel, and oooo and ahhhhh! That way you don't miss a thing! Feel free to pick out as little or as many dresses you feel necessary…your only limit is a 2 hour time slot….and maybe the champagne intake 😊
One-on-one assistance
Dressing Room
Once your gowns are picked and your tribe is comfortably seated, we will start! If you're comfortable, we will give you one-on-one assistance in the dressing room so you don't have to fight with poof and beads and zippers.
Silk robes will be available, and don't worry, we wont look at you and we will do everything in our power to make you feel comfy while naked in front of someone you just met 😉 Just don't forget to wear panties! I know it's a trend but lets save that for your wedding night girls!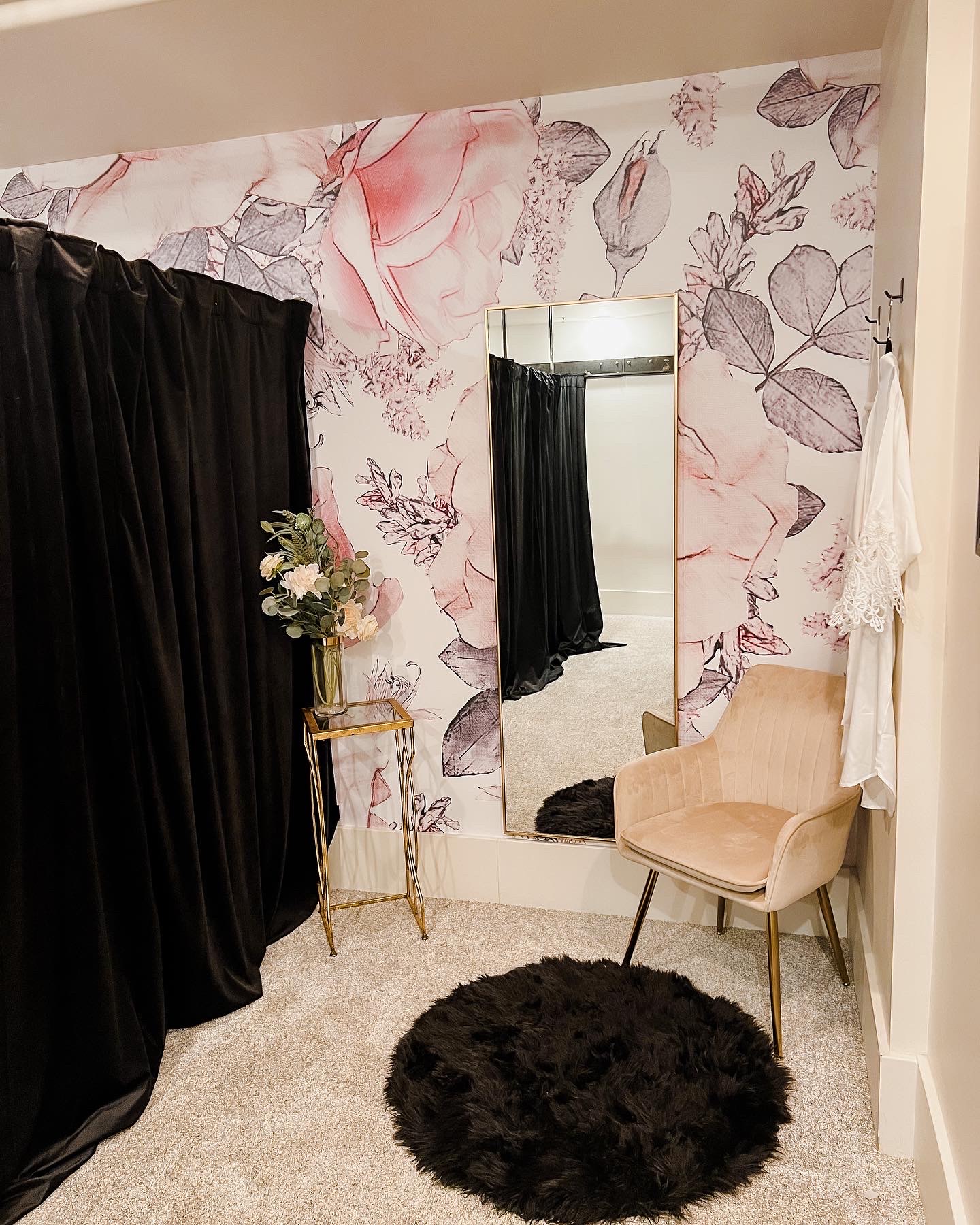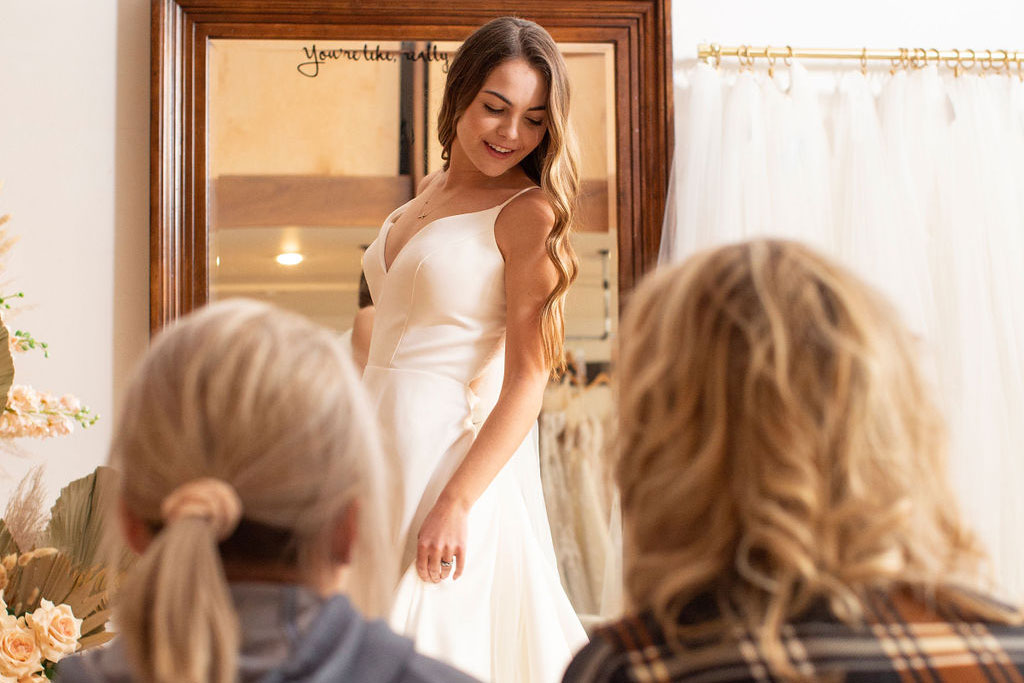 Get on that pedestal
Debut the Dress
Once you're in your gown of choosing, you can enter the viewing area and test your entry and awe factor with your bride tribe. Silence is always awkward, but if YOU love the dress, make sure you make it known! Don't let Karen bring you down! Get on that pedestal and rock it girl!!
Enjoy yourself
Sip on Champs 
During your appointment, you and your tribe are welcome to our Prosecco on tap! Although, the champagne is on us; the responsibility is on you, please limit two per person.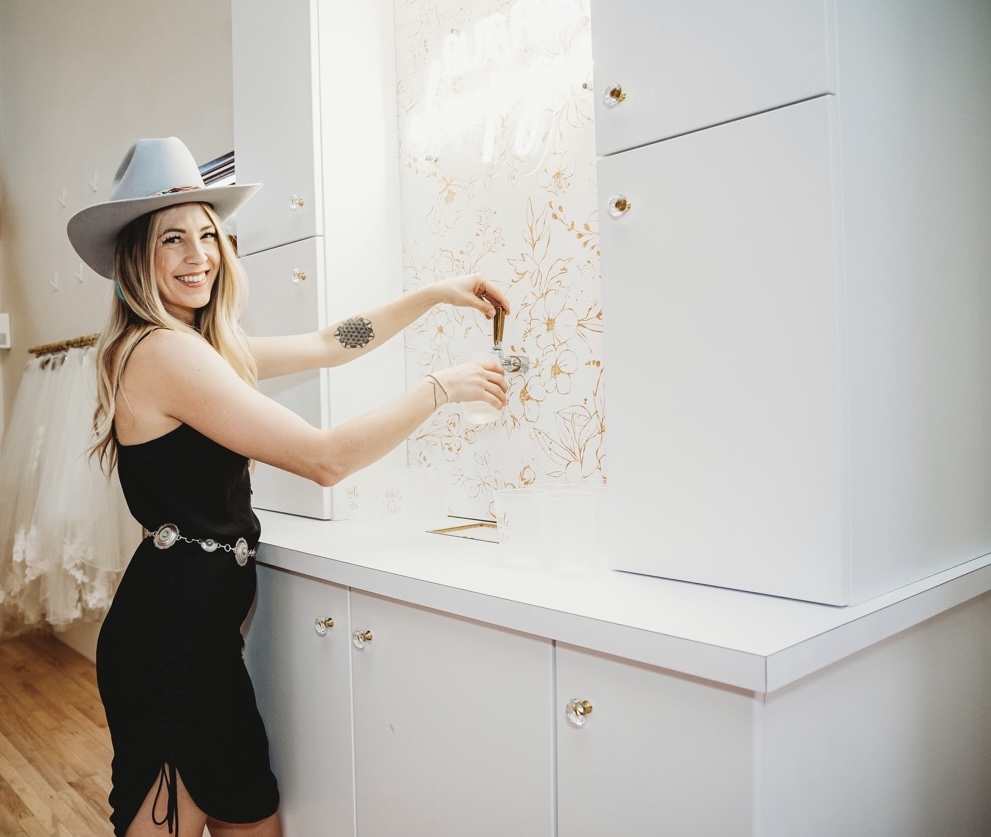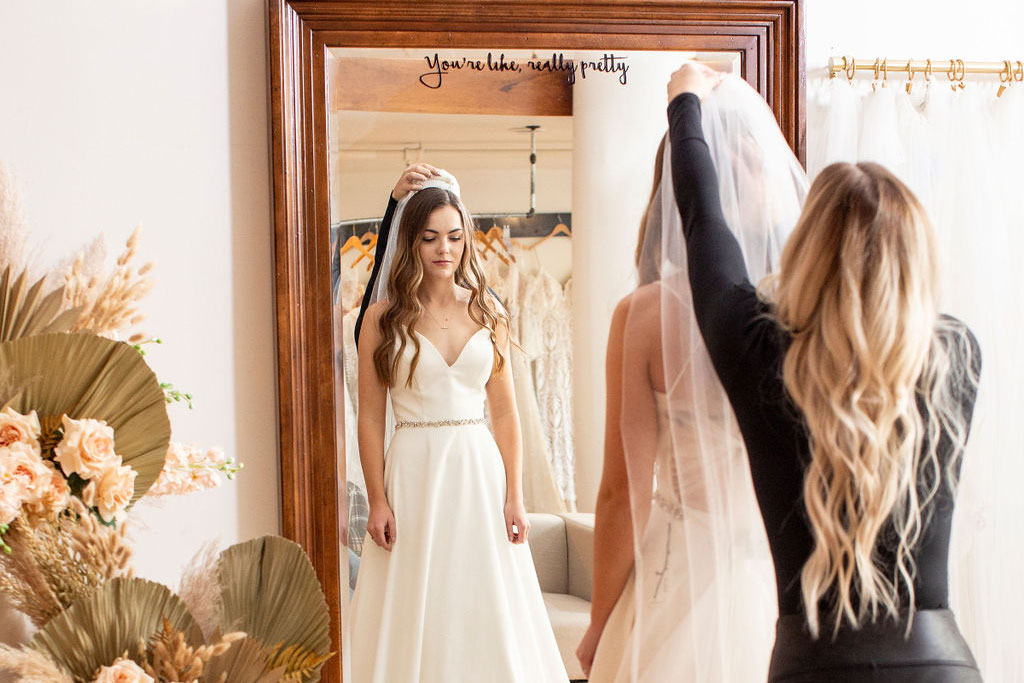 Add a veil and accessories
Your Favorites
Once you narrow your options down, we will re-try on favorites and add a veil and accessories in an attempt to make everyone cry! Not a crier? No worries, when you know, you know! No tears needed.
Finale
say yes to the dress
Once we solidify that you're in fact saying YES, we will ask you the big question (like you see on TLC) and cheer and celebrate you! We have cute "yes" signs for photos and you will even get a polaroid to take home!
Other goodies include a complimentary pop socket and a tumbler to show our appreciation. Once everything is finalized, we will let you know when to expect your gown to arrive and cover all of the important (and boring) information!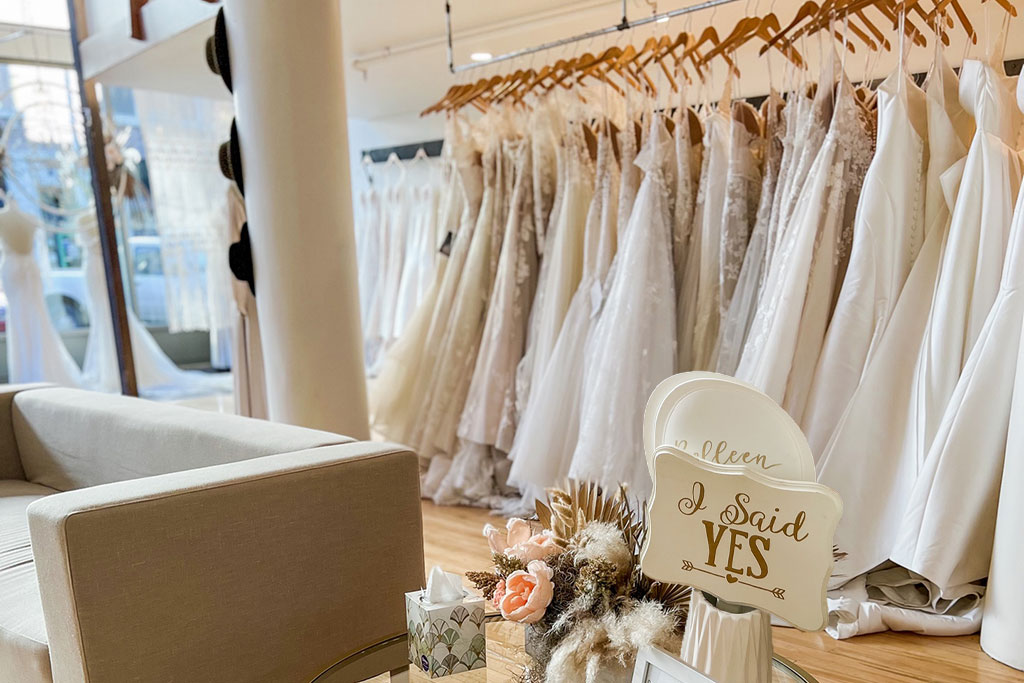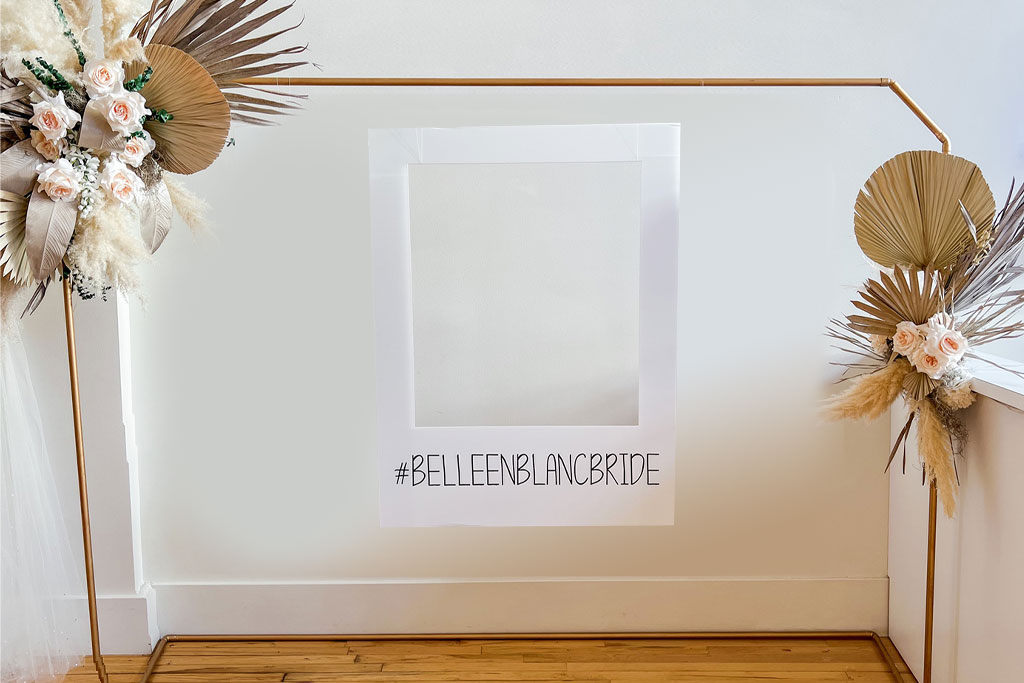 Last but not least
Photo Booth
Last, but certainly not least, make a pit stop at our photobooth! Grab a prop, and take some memorable photos that will then be sent directly to you via text message! All we ask is that you tag us on the gram' as #belleenblancbride ️
You have your dress
Now get Excited!
Four to six months later you will have a brand spakin' new gown in your possession and the next step is alterations with our extremely talented seamstress, Geri. Your magic number is 8-10 weeks prior to your big day, and don't forget your shoes! We will oversee the entire process and make sure you are 100% satisfied before sending you off to get hitched! 
We cant wait to experience this WITH YOU! Our goal isn't only to sell you a wedding dress, it's to build a long lasting, trustworthy relationship. 
See you soon!